Israel calendar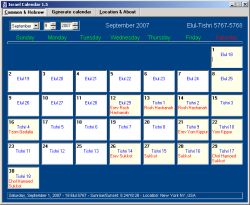 The Israel Calendar display Gregorian (common) with Jewish (Hebrew) calendar dates and major Jewish holidays.

It can generate and publish calendars to the web using HTML files. The Cover years are 900: Common 1600-2500, Hebrew 5360-6260.

Generate and publish calendars with parshiyot for a selectable number of months in HTML format.

It also counts and displays Omer (number of days from the second day of Passover to Shavout).

Display monthly calendars with sunrise/sunset and daily in taskbar notification area at over 8000 locations worldwide. The approximate elevation variation of sunrise/sunset is 3 min at 300 meters and 5 min at 1500 meters above sea level. The Sunrise/Sunset is displayed using Standard Time (time during the winter and without adjustment for extended daylight periods).