Talker English Dictionary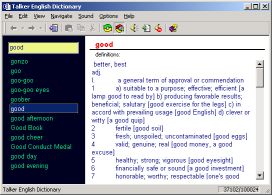 The Talker English Dictionary program gives you instant access to an invaluable reference book directly from Windows.

In addition to all the techniques you would use with a printed book (looking up a word, browsing, etc.) it enables you to carry out in seconds and you can hear the sound of texts (words, definition, etc).

The dictionary has two sections, one containing the full text of the entries, the other an index of the dictionary keywords (words explorer).

You can use it to:

- search the text of the dictionary

- follow cross-references instantly from section to section

- speak texts, definitions or words

- copy text from the dictionary into your document.